There is a need for volunteer firefighters—the committed citizens who help save lives and protect the property of their neighbors. While emergency calls are up, in some communities busy schedules and family commitments mean that fewer volunteers are available to answer the alarm.
Why consider being a volunteer firefighter?
The personal satisfaction of knowing you are making a difference for the people who live and work in your community.
No-cost training opportunities for all types of emergency response, including firefighting, medical emergency response, disaster response and water rescue.
An excellent way to receive training and on the job experience in preparation for a full-time firefighter position.
The Johnson County Fire Protection District #2 continually accepts applications for new personnel and welcomes the opportunity to discuss your possible involvement.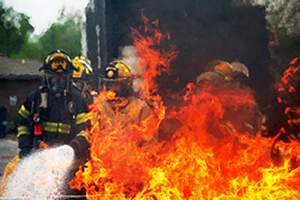 If you are interested in becoming a part of our organization, you can complete the application and mail to:
1352 NW 565 Road,
Holden MO, 64040
or call 816-732-8675
or contact us and send us a message.